Spiritual Deliverance (SD) is going to organise Bangladesh Death Fest MMXXI at Halloween Hall in the capital's Jamuna Future Park on September 24.
After four months of nationwide strict lockdown, with much struggle and uncertainty, the organisers eventually came up with the final date for this death metal festival.
Full of metal madness, this fest is going to be the first full-fledged physical concert since the government lifted lockdown last month.
The event was supposed to be a large-scale open-air festival with foreign death metal bands participating alongside local bands on May 30; but the rise in Covid-19 infection rate in Bangladesh (BD) brought significant changes.
SD spokesman Hasan Morshed Jim said, for the last one month we have been going though hectic schedules and immense pressure to launch this fest; now we are all set and preparing for the final day.
"Large-scale death metal gigs have not been arranged to date. This fest is going to be unlink any other in Bangladesh. It's going to be outrageous and we want all the metalheads across the country to join the fest to make it happen, together," he said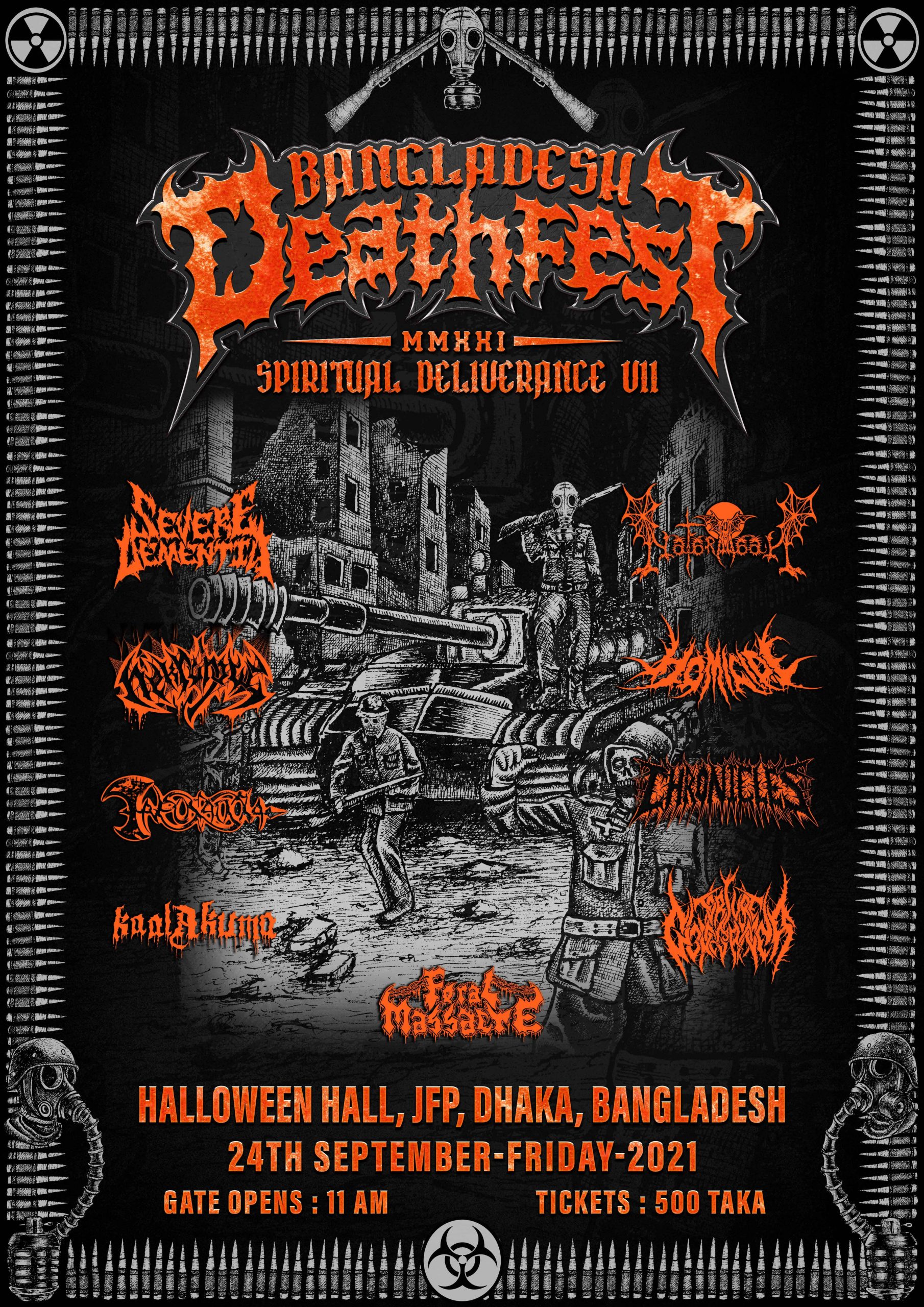 The event might not be an open-air one but the indoor segments and arrangements will surely blow the audiences' minds.
Organisers of the event want this to be not just a concert but a festival experience. They believe this is the very first time Bangladeshi metalheads are going witness such an extreme festival.
The fest will begin at around 11 am with screening of a documentary on metal music. It will be followed by the performance of nine death metal bands – Chronicles, Feral Massacre, Homicide, Infuscation, Kaal Akuma, Nafarmaan, Nekrohowl, Severe Dementia and Torture Goregrinder.
However, due to Covid-19 restrictions foreign bands won't be able to join this fest.
There will be a number of stalls at the event too. Audience can collect album cassette-CDs, zines, posters, musical instruments, t-shirts as well as order custom posters and musical instruments from the stalls of Spiritual Deliverance, Beshi Joss Customs, MuFreaks Posters, Heavy Metal T-shirt. Besides, stalls will be there for the need of food and drinks of the audience.
Tickets of this fest can be booked through tokens at a discounted price and collected from the venue on the event day. To find more about this event click here.
Health guidelines will be followed during the event and using mask at the venue is a must for the audience.
Spiritual Deliverance
Spiritual Deliverance is an event platform consisting a group of 5 musician-organisers with a crew of 30 members. Since 2015 the Spiritual Deliverance has been working to develop the country's extreme metal and underground (UG) music scene. It has been organising concerts and promoting UG bands to spread beyond the borders, the culture of true extreme metal music in Bangladesh. Bangladesh Death Fest MMXXI is the seventh event of the Spiritual Deliverance series.
Featured Image: Spiritual Deliverance
Fact Check
We strive for accuracy and fairness. If you see something that doesn't look right, inform us!